Related Policies, Additional Resources, and Frequently Asked Questions
Federal Aviation Administration
FAA Summary of Small Unmanned Aircraft Rule
FAA Modernization and Reform Act of 2012 (Pub. L. 112–95)
Requirements and Process for Becoming a Pilot
Recreational use of UAS/Model Aircraft
FAA complete Small UAS Rule:
Notice of Operation and Certification of Small Unmanned Aircraft Systems (NPRM);
81 Federal Register 42063 (June 28, 2016, effective August 29, 2016);
Operation and Certification of Small Unmanned Aircraft Systems  
Guidelines for Submitting a Petition for Exemption
Section 44807 Petition Checklist and Guidance
UAS Frequently Asked Questions
What is an unmanned aircraft system (UAS)?
An unmanned aircraft system (commonly referred to as a "Drone") means an aircraft that is operated without the possibility of direct human intervention from within or on the aircraft, as well as the communication links and components that control the aircraft.
Do I need approval from the university to use a Drone on university property, inside a campus building or at a university-sponsored event?
Yes. The University of Iowa has implemented a Drone policy in order to support the university's mission while also managing issues of safety, privacy, and compliance with applicable laws and Federal Aviation Administration (FAA) regulations. The policy can be found here.
To whom does the university policy apply?
The University of Iowa's Drone policy applies to all Drones, parts to assemble a Drone, or Drone services purchased with university funds or with funds being disbursed through a university account; all faculty, staff, students, volunteers, visitors and members of the public who launch or land a Drone on Campus, fly-over Campus, or operate a Drone within a campus building; and all university-controlled and/or university-owned Drones launched or landed outside of University Property.
How do I seek approval to use a Drone on university property or at a university sponsored event?
A request for approval should be submitted via the Drone Flight Request form (link pending) at least 10 business days prior to the planned operation. The request must be complete, accurate and include:  
A detailed description of the proposed Drone activity, flight plan, launch and land locations, and purpose;
Name of requestor, Drone Operator, Drone Operator's licenses, Remote Pilot In Command, permits and clearances to operate the Drone as proposed;
Owner information, description of Drone, and FAA assigned Drone registration number; Landowner Consent Form; and
Any other pertinent information necessary for the Drone Committee to review.
What does an acceptable "detailed flight plan" look like?
Here is a sample of an acceptable detailed flight plan: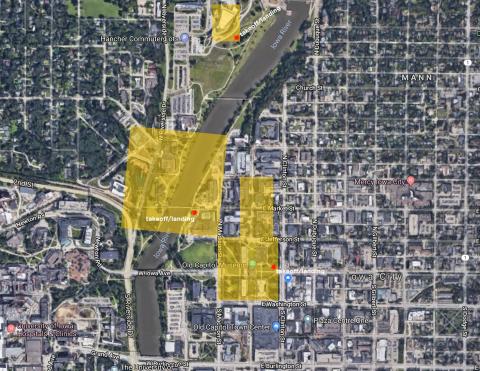 What are the FAA regulations addressing Drones?
The FAA has jurisdiction over all navigable airspace in the United States, and all aircraft (whether manned or unmanned) are subject to FAA rules and regulations. In Section 333 of the FAA Modernization and Reform Act (FMRA), the FAA addresses the rules for operating all manned and unmanned aircraft. The FAA is authorized to grant an exemption under Section 333 to enable an individual or an entity to operate a UAS for civil and non-governmental purposes and activities. For more information about FAA rules and regulations, please see the FAA's UAS website found here.
Is there an exemption from the FAA regulations when the Drone is used for teaching or research purposes?
No. Faculty and others who would like to include operation of a Drone as part of their teaching or research, or for other educational purposes, are subject to the FAA's rules and University's Drone policy.
How do I seek approval to use a drone on Iowa City property?
A request to use a drone on Iowa City property should be submitted to Michael Tharp at the Iowa City Municipal Airport at Michael-tharp@iowa-city.org.